. books, movies, musics, social, politics, travel, photography, art, et cetera .
It was my first visit across the Johor causeway and yes, including Johor Bahru as well. Haha. Finally after more than 22 years! From my two days visit, all i can say is that
Singapore
is indeed a great modern city. Frankly speaking, even Kuala Lumpur is no match to Singapore. Lee Kuan Yew, the Singaporeans and the Singapore socio-politics aside, i think it was a worthwhile experience to get the chance to see for yourself how developed the country is. I'm not trying to belittling my own country but i guess this is what my thoughts are about Republik Singapura.
Those Selayang Municipal Council (MPS) councillors and officers should just take a look down south across the causeway instead of wasting money visiting
Mauritius and South Africa
for the sake of visiting a dozen toilets and blabla. It's so funny reading TheSun's report on one of the councillors comment on the 'Safari trip';
"As the cleanliness committee chairman, I saw 12 public toilets and they were really clean," he said. --Sun2Surf
So, one of the purpose of the trip was that they went all the way there to just check on their toilets?? hehhe. Well, i don't know much about our Majlis Perbandaran issues save for the fact that i know they are the most corrupt government entity but I think even schoolboys lawatan sambil belajar could be even more meaningful.
Ok, I'm getting a bit carried away here, so, I'll just let the photos speak for themselves.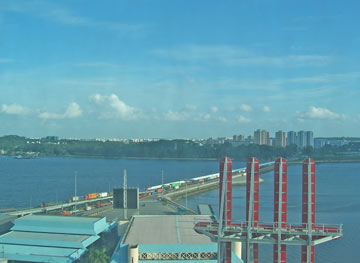 01..view of the causeway from my hotel window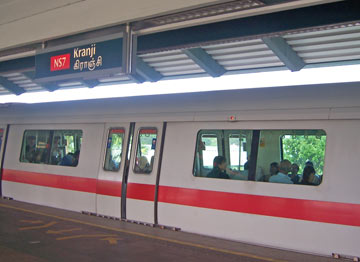 02..sorong papan tarik papan, berhenti seketika di stesen MRT Kranji,
(haa sambung, sambung.. :p)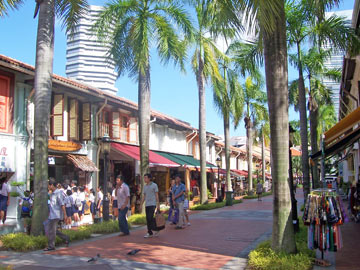 03..Kampong Glam pedestrian mall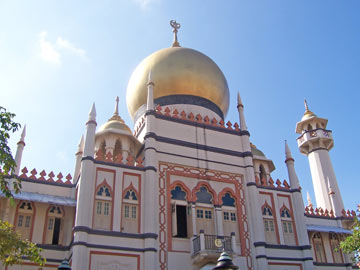 03..the majestic 80-years old Sultan Mosque at Muscat Street, Kampong Glam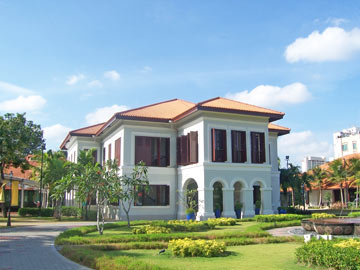 04..Istana Kampong Glam at the Malay Heritage Centre
[Istana yang dibina di zaman Sultan Hussain Syah sewaktu pemerintahan British pada lewat kurun ke-19. Semua keturunan mereka makan gaji buta tinggal di sini. British bayar stipend atau nama lainnya political pension. Angkara perebutan takhta dan kebijaksanaan Stamford Raffles, tanah kesultanan Melayu tergadai. Kerajaan Singapura sampai sekarang masih membayar stipend kepada cucu cicit keturunan Sultan Hussain Syah. 100 tahun lebih sudah berlalu, Melayu masih mendendangkan lagu sama..]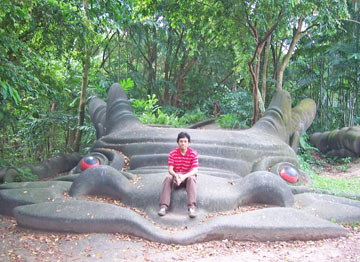 05..
Sentosa Island (me sitting on a dragon's nose)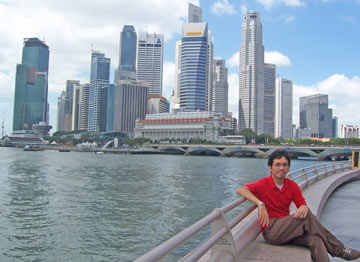 06..breathtaking view of Singapore skyscapers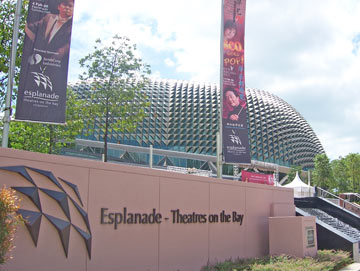 07..
Esplanade - Theatres on the Bay (Singapore's premiere art centre)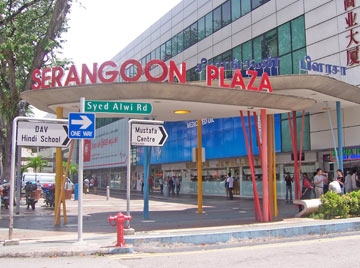 08..Serangoon Plaza in Syed Alwi Rd. Little India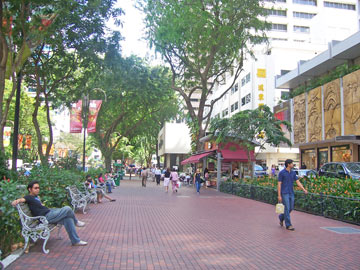 09..Orchard Road
>> So, that's it for today. Check out my fotopage for more pictures.
Mae - We're So Far Away